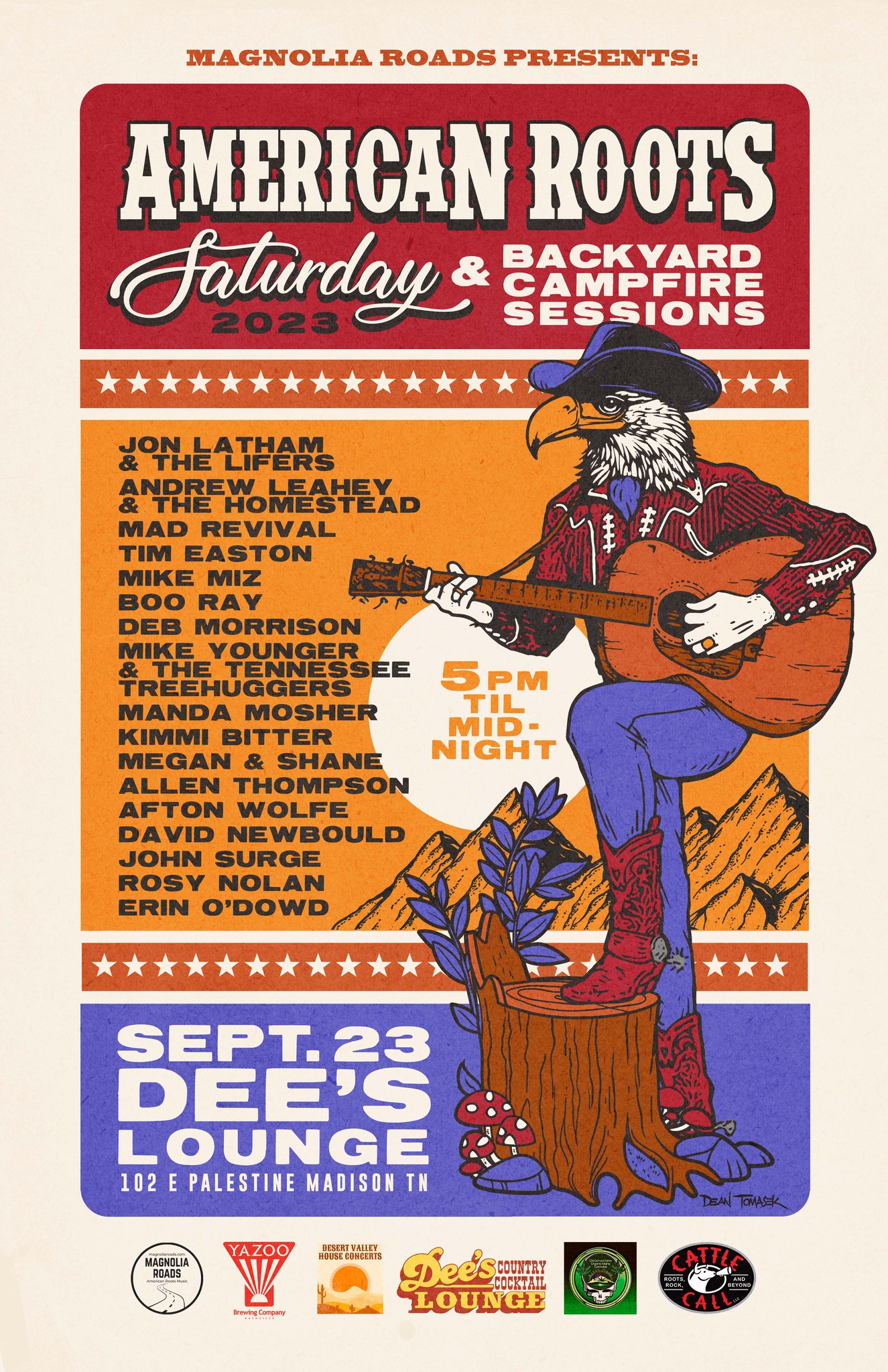 Magnolia Roads American Roots Saturday & Backyard Sessions 2023 – Dee's
September 23 @ 4:30 pm
CDT
Magnolia Roads family & friends come together for the annual Magnolia Roads American Roots Fall Music Festival September 2023 in Nashville. The festival features 27 Nashville, California, and Chicago critically-acclaimed and award-winning independent music acts. The eclectic mix of musicians epitomize American Roots and Americana music inspired by the music that grew from the roots of America at honky-tonks and dive bars, juke joints and roadhouses, front porches, backyards and campfires.
• Day Two Sept. 23, 2023 4:30pm-midnight at Dee's Lounge, 102 E. Palestine Ave., Madison, TN 37115
"Magnolia Roads reputation of being the best show to play during AmericanaFest. Emily's commitment to supporting independent artists, and all her hard work in show curation. I love the Magnolia Roads shows." – Deb Morrison, musician, photographer, Prickly Pear Presents
"I love Magnolia Roads!!!" – Manda Mosher, Blackbird Record Label
"We love the Magnolia Roads community and the hard work Emily puts into it." – Megan & Shane, musicians
"We love playing Magnolia Roads events." – Adrienne Isom, NOCONA, musician
"We always have an amazing time at The Hoedown. Good people, good music, good vibes, good times." – Matt Mann & The Shine Runners, musician
A Magnolia Roads Production.
Sponsored & supported by Yazoo Brewing Company, Desert Valley House Concerts, Cattle Call, and Old School Farms.
SCHEDULE
4:30 Doors
Outdoor Acoustic Stage
5:00 Erin O'Dowd
5:30 Rosy Nolan
6:00 Megan & Shane
6:30 David Newbould
7:00 Tim Easton
7:30 Afton Wolfe
8:00 Mike Miz
8:30 Allen Thompson
9:00 John Surge
Indoor Band Stage
5:00 Kimmi Bitter
5:50 Deb Morrison
6:40 Mad Revival
7:30 Mike Younger & The Tennessee Treehuggers
8:20 Manda Mosher
9:10 Boo Ray
10:00 Andrew Leahey & The Homestead
10:50 Jon Latham & The Lifers